How to price a job
Instructions on how to use XpertHR online salary survey tools to define and then report on one or more job roles.
Video - job pricing
Creating your first salary table
From the Salary Surveys home page, click one of your Subscribed Surveys. This will take you to the home page for your selected survey, where you will be able to see all the different formats and applications you will need to benchmark a salary.
The "price a new job" button enables you to create your first salary table. Click it, then give the job a name in the box. This will help you find it again in future, and will be included if you download the data for use within your organisation.
Now select the job function and job level appropriate to the role. Now click the "add a job" button at the bottom right of the window.
You have created your first salary table and a chart showing the data.
Choosing levels and functions for a job role
All job roles in XpertHR Salary Surveys are defined by their level of seniority and by their functional area. We provide standard definitions of these to ensure that comparisons between organisations are made on a consistent basis.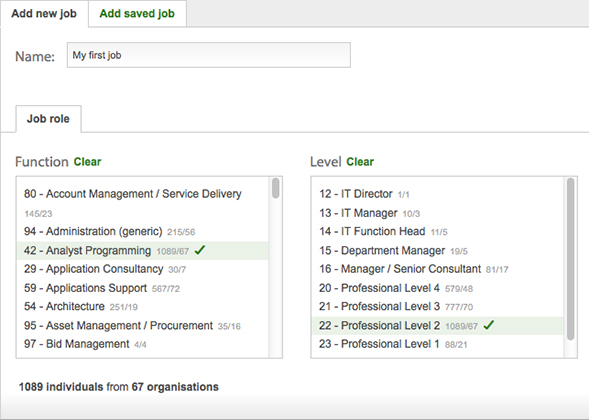 Once you have submitted your own organisation's data, you will probably have a good idea of what each of the job levels and functions relevant to your organisation means and how they relate to your roles. However, you can download a full guide from the survey home page at any time.
When adding a new job to job pricing, start by selecting just one job level and one job function. You can always amend your choices later in the process.
Refining a job role
Once you have created a salary table based on a job level and function, you may want to refine it by selecting additional options relating to the role itself or to the type of organisation. This will enable you to match the job role more closely for benchmarking purposes.
Click "refine" from the text options on the top right of the table. By default you will be in the "job role" tab showing you the job level and job function options you have already selected. You can change these if you wish.
The "individual" tab allows you to select options such as location or gender. There is, however, no requirement to select any of these refinements if you do not think they are relevant.
The "organisation" tab allows you to refine by options such as industry or organisation size. Again, there is no requirement to select any of these, and we would suggest you do so only if you believe that these options have a significant influence on salaries for this type of role.
Once you have selected any relevant options, click the "refine" button at the bottom right and you will be shown a fresh set of results based on your choices.
What does the report show?
When you create a report in job pricing, you will see a salary table and chart showing salary data for the job role drawn from our database. By default, we show you not just the median and average but the upper and lower quartiles and, for some bigger surveys, the upper and lower deciles.
All tables also show sample sizes. These give you the number of organisations and individual employees whose criteria match those you have selected.
In addition to basic salary, you will also see data on bonus and commission payments, car allowances and other benefits and payments. These vary from survey to survey to reflect the roles and industries covered - commission, for example, is usually only shown in surveys covering sales roles.
There may be occasions when you do not wish to see the full range of quartile or decile salary data - particularly when using the results with line managers and employees.
By selecting the relevant target measure from the dropdown menu at the top right of the table, you can choose to show just the median, average or other figure.
The chart aims to give additional insight into the data by showing the spread of salaries for the role you have selected. Hover over any of the bars on the chart to see what proportion of employees fall into each salary range.
Saving a job
Now that you have created a salary table and refined it to show the data you need, you can save it and return at a later date.
The "save" link is at the top right of the table. Click it and you will be shown a dialogue box which enables you to finalise the job's name and add notes if you wish to. By default, we also show you the job level, job function and other options you have selected for this role.
Adding a new job
At any time, you can return to the survey home page and price a new job.
Adding a saved job
Once you have saved one or more jobs, these will show on the survey home page. You will see the three most recently saved jobs listed individually using the names you selected for them. Older jobs can be found by clicking on the "see all saved jobs" link.
If you click on any one of these saved jobs you will be taken to the results screen, showing the salary table and chart in the form at which you last saved it.
Comparing two or more jobs
Once you have created your first job pricing report, it is an easy matter to add additional jobs so that you can compare salaries for two or more roles.
To add a second job role which shares some of the same characteristics as the job you have already created, click on the "duplicate" link at the top right of the table. You can now change aspects of this second job by selecting the "refine" option.
So, if your first job role was "General Manager - North West", you may now want to change the name of the second role to "General Manager - South East" and alter the refinements accordingly.
Click the "refine" button and the table and chart for your second role will update.
Alternatively, if the second role is considerably different to the first, you may want to select all refinements from scratch. In this case, click the "add job" button at the bottom left of the table.
Comparing your own data
Once your organisation has taken part in the survey and we have checked the data, it will be added to the database and to job pricing. All data is protected and anonymised, so no one from any other participating organisation will ever be able to see your data, and you will not be able to see theirs.
Having priced a job, you will see orange text at the top of the salary table which reads "show my data". This has a dropdown menu which enables you to select one or more of your organisation's "installations". Most organisations have only one installation, but some very large and diverse participants choose to split theirs, for example to reflect separate divisions within the company.
Once you have selected your installation, the table and chart will show comparisons between the market rates and your company's average payments for the selected roles.
Downloading a report
When you have created your salary table or tables, chosen whether or not to include your own data and selected the level of detail you want, you may want to download the results for use offline or in internal company reports.
Click the "download" link shown in green text at the top of the table, and all tables you have created in this report will download to your desktop in Excel format. The Excel report includes the job names you gave the roles when creating your job pricing report and lists all the refinements you made.
Printing a report
To print a report use your web browser's print function. The print function can be found via menus, or through using the common Ctrl + P shortcut. Unnecessary logos and page navigation items will be removed from the printed report.
Download the Help Guide in PDF format